Fri Jul 13, 2007 by Anil Kalhan
NYC MUSIC: Isheeta Ganguly CD Launch – IAAC/Sundaram Tagore Gallery, July 31 @ 6:30pm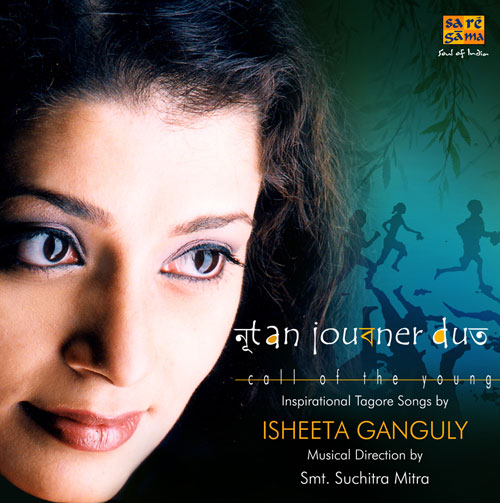 Isheeta Ganguly:
Isheeta Ganguly is a fusion singer of the Indian diaspora. Born in Kolkata and raised in the U.S., Turkey, Japan and Indonesia, Isheeta began singing at the age of five and came to Kolkata as a teenager to train in Rabindrasangeet under maestro Smt. Suchitra Mitra and in Indian classical music with A.T. Kanan. Rabindrasangeet became the thread of continuity for Isheeta, while she was growing up amidst various cultural contexts around the world. Isheeta released her first album, titled "Tomari Nam Bolbo" at the age of fifteen, which struck a chord with Kolkata listeners, and also made her the youngest artist to release an album in Tagore's music. "Nutan Joubaneri Duth", (Call of the Young), is Isheeta's first release with SAREGAMA/HMV which has also been directed by Smt. Suchitra Mitra. The album includes a selection of popular, inspirational, Tagore songs which revolve around themes of rejuvenation, courage and reinvention.
Since her first acclaimed release, described by The Times Of India as "a most exciting find", Isheeta has performed Rabindrasangeet widely both in Kolkata and the U.S. where she performed regularly at the annual North American Bengali Conferences as well as several international music festivals in New York City. Additionally, Isheeta recorded four more highly anticipated albums in Rabindrasangeet, two of which were collaborations with her guru Smt. Suchitra Mitra, in a series titled, "Aj Khala Bhangar Khala".
Simultaneous to her journey with Rabindrasangeet, Isheeta was inspired in Western opera and jazz through her training with Nancy Wilson from the Lincoln Center in New York City. Subsequently, during her college years at Brown University, she performed with a pop a'cappella group called the Chattertocks a group with regaled audiences all over the U.S. with jazz and pop favorites.
Her proficiency in both Rabindrasangeet and Western styles of singing led to collaborations a number of international projects including: a multi-media work called "Riot" with Shabana Azmi, Madhur Jaffrey and Shashi Tharoor in New York City, the inaugural performances of four Indo-American Arts Council Film Festivals with Mira Nair, Deepa Mehta and the late Ismael Merchant, a multi-media collaboration with danseuse Mallika Sarabhai and The Battery Dance Company titled, "Still I Rise" as well as a collaboration with Tanushree Shankar's Tagore based production titled "Chiranthan".
Sundaram Tagore GalleryCall of the Young:
Call of the Young (Nutan Joubaneri Duth), directed by her guru Smt. Suchitra Mitra, is Isheeta's first release with SAREGAMA, which will also be distributed internationally. The album includes a selection of popular, seasonal and inspirational Tagore songs with universal themes of rejuvenation, courage, reinvention and celebration that mirror the experiences of every community.
Isheeta wants to familiarize audiences outside Bengal, both nationally and internationally, with the delights of Rabindra Sangeet, particularly the lilting melodies and poetic lyrics which strike a chord with people across age groups and nationalities around the world.
* * *
When: Tue, July 31, 2007, 6:30-8:30pm
Where: Sundaram Tagore Gallery, 547 W. 27th Street, 6th Floor
Contact the Indo-American Arts Council for more details