Mon Jul 23, 2007 by Anil Kalhan
NYC FILM: "Out of Status" – Theatrical Premiere Aug 1-7 @ Two Boots/Pioneer Theater
*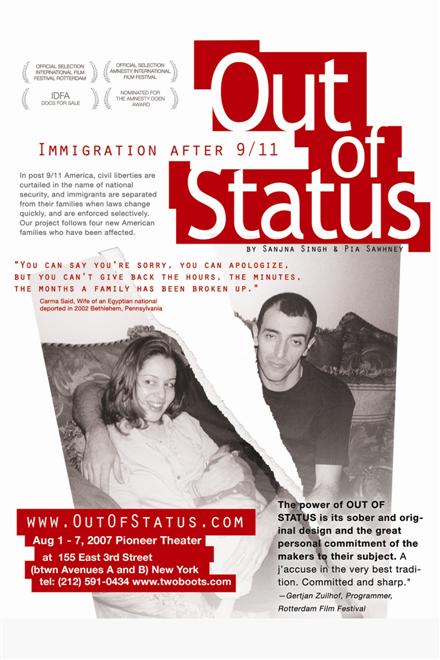 "You can say you're sorry, you can apologize, but you can't give back the hours, the minutes, the months a family has been broken up." – Carma Said, Wife of Akram – an Egyptian national who was deported and separated from her and his 2 children for over 3 years.
In post 9/11 America, the curtailment of civil liberties in the name of national security has had a direct and enduring impact on individuals of Muslim background. This community, collateral damage in the war on terror, is further alienated by selective enforcement of new and existing immigration policy. Families are separated and communities were uprooted.
We followed four families whose lives were dramatically changed after 9/11. Carma, an American citizen, saw her husband Akram arrested from their home and deported to Egypt. Akram lived in Pennsylvania, worked legally to support his family and waited to adjust his status. Two days after 9/11, Salem, an American citizen, was detained for 40 days and held in solitary confinement for allegedly stealing a rental car. Hakim, an Algerian, has permanent residency papers pending with the INS. After 9/11 he was placed in deportation proceedings, despite being married to a US legal resident. Hakim has a one-year old son who was born in Brooklyn. The Rahmans, also from Brooklyn, fled to a refugee shelter in Buffalo, New York to seek asylum in Canada. They face persecution in their native Bangladesh, but were afraid of enforcement measures in the US. Along with 15,000 others from Brooklyn, they left their homes and lives rather than face the prospect of being deported by authorities.
In a country that treasures freedom and democracy, these trying times have brought anguish to those who came and continue to come here in search of a homeland.
* * *
about the filmmakers

Born in Mumbai, India, Sanjna Singh left at 17 for the U.S. She graduated from Bryn Mawr College magna cum laude with honors in both Political Science and French. Along with co-producer Pia Sawhney, she was awarded grants from the New York State Council for the Arts and the Experimental TV Center for Out of Status. The Queens Museum, Asia Society, Pioneer Theatre, Egyptian Theater (LA) and Angelika Film Center among others have screened their work. Sanjna was accepted into IFP's Project Involve Documentary Unit in Spring 2004 and was awarded the Eastman Kodak Final Pitch Award. Her personal essays have been published in the New York Times, among other publications. She has studied film and photography in New York and in Paris, and was a panelist at Amnesty International USA's Annual General Meeting in 2004. She currently works at HBO Studios in New York.
Pia Sawhney has worked in documentary for four years, and most recently on a production for Jennifer Fox, which will air on HBO next year. Pia's short film Out of Status, with co-producer Sanjna Singh, played at the Rotterdam, Edinburgh, and Amnesty film festivals among others. The feature version, in post-production, is funded in part by grants, and screened as a Work-in-Progress at IFP Market 2004. Pia and Sanjna are finalists for the Roy. W. Dean grant, and were nominated by NAATA for the ABC Talent Development Award. Pia has served as a panel judge for the SAJA Scholarship Award, was accepted to IFP New York's Project Involve workshop, and attended Bryn Mawr College. She has lived in the US, India, and the Middle East. Pia is completing a graduate degree in broadcast journalism part-time at New York University, and works as a freelance producer.
* * *
Two Boots/Pioneer Theater"Very Moving and Compelling"
– Sara Bernstein, HBO Original Programming, Documentaries
"We applaud you…[i]t remains a testament to the difference that visionary individuals and artists can make in the advancement of justice and human dignity."
– William F. Schultz, Executive Director, Amnesty International USA
"Two of the most important young filmmakers in the country today"
– Peter Sellars, Film Theatre and Opera Director
The project has been supported by grants from the New York State Council for the Arts, Experimental Television, and prominent advocates and filmmakers who have nourished and encouraged the work throughout.
* * *
When: Wed Aug 1, 2007 – Tue Aug 7, 2007
Where: Two Boots/Pioneer Theater, 155 East 3rd Street (btw Aves A & B)
Tickets available online from Two Boots/Pioneer Theater. More details about the film available here.